Kintarki Flied Ciken
When my young age my friend asking me before what is KFC and he told me in ourhometown we called it
Kuching Farking Centre
... LOL
Yesterday lunch time i didnt plan to go out anywhere but to just stay in office
buthen
suddenly my colleague ask me whether i was going out as she wana ask me help to bought her lunch...she cant go to cafeteria as the smell will made her vomit...after my advice not long ago in one of my post, she really did it now she pregnant... ;P
At first i told her i lazy to went out then suddenly my heart felt uneasy as she ate breakfast and vomit all out and her stomach empty so anyhow the baby must need supplement from mom rite???i told her i would help her bought as i can snap some picture at *
farking centre*
... LOL
This the new renovated Kintarki Flied Ciken@Tabuan Jaya ...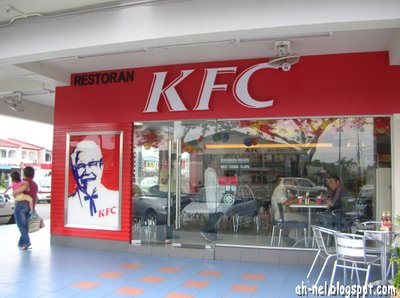 i went there on lunch time and suprisingly not much people...i think they all knew that
farkfood
ain't good for health... ;P
the
chicks
...i mean chickens...lol
this the 2nd shop combined together gether and it used to be Pizza Hut...
complimentary soft drink as i have to wait for the nugget for 5 minutes...
nowadaes
farkfood
outlet very lich oledi and hired more staff for better service...this guy stand at the door...you just need to speak in your heart
open sisamee
then the door open...lol
MCB...more than 5 minutes sitting there so go snap sumore picture and i saw the toys booth...lil chicks...i had it in ofiz...you dont belief???...
she checking her bill see that i cheat her onot???lol...
she ask me why i didnt bought something for myself and i told her its ok...*i like to
fark
but not
farkfood
* LOL
Kids
!!!if you reading this post do appreciate your mom as she suffer nine month carrying you in her belly without complaining...first few month everything she eat will vomit and you know how suffer onot???
LOVE YOUR MOTHER
wokei
... ;)
p/s:my colleague(Hong seng) just came back from Macau for holidays ask me last week my birthday where i went to celebrate...i told him i didnt celebrate...
he bought present for me from
ni ren jie
(gals road) and weird huh at those places bought this kind of thing... ;)
then he ask me knew how to play onot???i dont even knew how to read chinese how to play???...ask me go learn later play with him or he teach me how to play....i quit gambling oledi lar my fren... ;)
anyhow its a nice cute mini mahjong...thanks Hong Seng and this the second plesent i received for my birthday... ;)