Foam party...lol
Last nite there were 2 function i rejected to join and end up at Jln Song having supper...hehe...one of it are ah ngo birthday party as i wana stop consuming liquer for the mean time or maybe quit for life...her actual birthday next week and she just older than me 2 days...lol...
another one was so called Foam party...i wouldnt want to join anything organised or party held in my hometown as i know it will end up with dissapoinment...the ticket cost rm60 per entry and end up my fren told me he can get 3 ticket for rm100...as nth to do me and Andy went to have a look and upon we reach,from outside we saw everyone was wearing jeans,t-shirts and formal wear...wtf...i thought it supposed to be wearing any swimwear...lol...Andy told me he went before this kind of party in Singapore and it was much diffrent from this...
i just took this picture from my colleague this morning that join the party last nite...it was held at Stampark swiiming pool...
the Dj busy playing the song... *MCB...talk seem lyk i was thre* lol
one of the audience being took off shirt by this errrr.....no comment... ;P
holicow...transplant screwed up...*tips for ya all who wana organised a party or anything just hired those ah kua will really save you a lot of cash* ;)
now the foam party start...look at them all wore jeans and none seem to be in swimming suit...duh...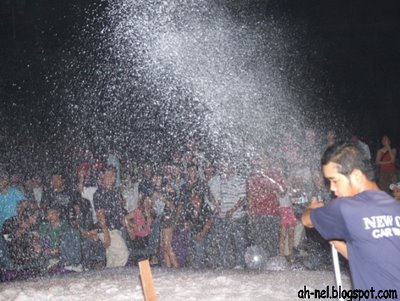 so called foam party huh???did you notice that the foam kambing out from that hose that gals was holding???
any clue what produce the so called foam???if we didnt know what was it still ok kok but but but...wana know or not???
cheebuy...see or not???that guy stil dare wore his company t-shirt...its a Snow wash pump...MCB...lucky i didnt go...smart huh me???
yeah...i heard they gonna held this party again end of this year...who wana join???kam kam...can get free snow wash on your body...lol
p/s:i heard a lot of ppl complain as it supposed to end at 1.30am but inteads of end at 1.30am it end up at 11.30pm...