Sematan trip
There goes another sematan trip for me but this time i go with uncle Teo thats is going to be leaving us in 1 month time...He had been working in 1st silicon for more than 2 yrs but i get to know him better few month ago...Since he nvr been to Sematan so we decided to bring him go to have some beach fun... Wilmina was so nice to drive us there using her 4wd... :)
Uncle Teo having some dried guava...
Look at her...smile so happily while we still travelling... :D
Look everyone!!!can u see my heart in pink colour... :P
Uncle Teo heading towards the jetty following by Wilmina...
I went to see what they looking at but i get disappointed coz i cant manage to see anything... :P
This guy i dont need to introduce as he was the superhero for all kiddies at United states but what the heck he was doing in my blog???
another freak wrong place to save the world to make his fan proud of him...
finally i know why those both superheroes was in my blog...he left his son in Sematan...
After seeing superman son flying into the sea i went to the market took some photo...look what i found...huge squid...
this was the view of the vegetable market...
rm6 per packet...i dont know what it is but i think it was oyster... :-
seashell not in the sea but on land to be sold off...
when i heading towards the car as they want to heading to the beach i was stopped by this advertisement...INGIN MENCARI KERJA(looking for job)this advertisement will only be seen most of it out of town area as this is because they looking for cheap employee to be sold to oversea to work...Those advertiser will advertise high salary so the villagers get interested but when they go oversea they wont get what they want...
when we reach the beach, i was shocked as i nearly step on this jellyfish..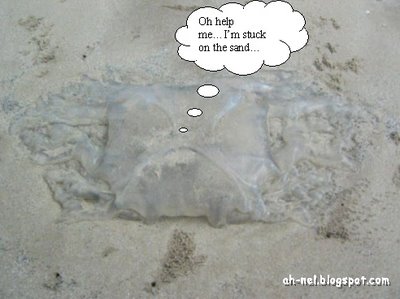 omg...look how dare she is as i dont dare to touch it when i 1st saw it...i scared it will cause itchiness to my skin as my skin really sensitive...she carrying this poor thing to the beach for a shower... :)
there you go my poor thing but it was pronounce dead...time of it dead i dont know as i cant speak jellyfish language... :P
Uncle Teo want some photo with this poor thing also... :)
then me and Uncle Teo went swimming and done some good thing as we help to free a fish from the net to prevent jellyfish...i din took photo of the fish coz i dont have a camera and she wont let me used it also in the water...i was being nagging by her(L) when i took some photo at the jetty as she scared i drop her camera into the sea... :)
It was about 7pm when we reach Siu Ling seafood while on the way back to kuching...We were having our dinner at this seafood restaurant...
i understand Uncle Teo was really hungry as we only had fishball soup at carpenter street on lunch time but he still helping to distribute the soup to us...maybe because the soup was place in front of him so he had no choice...hehe...just kidding Uncle Teo...dont kill me when u read this blog... :)
as usual girls din eat that much so she shared abit of his rice to Uncle Teo...hehe...as usual i din eat rice coz it make my stomach felt uncomfortable aft having it... :P
this was something i must have it...my all time favourite cilipadi as it was hot...i think the waiter sure curse me coz i ask him refill 3 times coz not enough for a big hot eater like me... :)
ohhh...my favourite...fish...i think i finish mostly of the fish coz they all not a big fish eater like me...hehe...i took this photo after we halfway eaten it...
why was she staring at the blue plastic cup which came with hot water and our spoon in it??? :)
that Wilmina having her dinner after long drive for us from kuching to Sematan(more than 100 kilometre)...
We all really enjoy that day...a big thanks from me to Uncle Teo for treating us lunch and dinner...Wilmina for her kindness to drive us...Lydia for her camera and photo so we had a nice memory as time passby and photo kept us had a view and memory on it...