Saturday delight - Caught on camera at KLCC
Its Saturday again so its time for some unusual stuff to be posted in my
blog
...hehe...
I think below couple had already married or found their own partner as i received the picture last year in April...maybe some of you had seen it before but some might not... :)
Are you ready??? :D
*
*
*
*
*
*
*
*
be patient...
*
*
*
*
*
*
*
*
ok lar...a little bit more...
*
*
*
*
*
*
*
*
tell me you enjoy or not ya in the end of the show...hehe
Its a normal day at KLCC but look at that couple on the right...
started with a kiss...
the guy searching for car keys... :P
going deeper and kept on searching...she already high...
who calling this hours???now both of my hand had to be busy...sial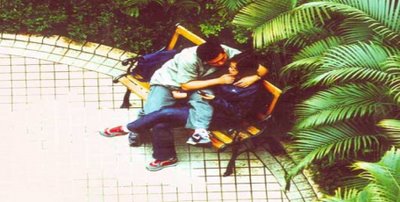 he continue his project that was being disturbed just now...cover up with jacket...
she want some pony ride...its better she ride fast before KLCC Bond came...
oh yeahhh...he hope that everyday can have this kind of enjoyment... :)
the photographer sure tfk while took this picture... :P
its Saturday so i wish you all my blog readers have a nice weekend...