Damn Suey
Last nite i went to find my best fren(
ah yong
) at Hopoh and there was so jamned at the carfark...i think all did some shopping on the DeepaRaya that is kambing soon...i think some of them even shop for coming soon kerismasnewyeargongxifacai...it took me turn few round last nite to look for car farking...suddenly i heard a loud sound from my front bonnet and saw my car water temperatute shoot up...then i found a illegal place and park my car...
Open the car bonnet saw the water leaking out from hose...KNN...
While waiting for my car engine to cool down,i went in to Hopoh sent my lucky draw coupon and look for ah yong at
AB optics
*
for those who wore specs...tell them i intro then you will get special discount
* :)
When they closed up the shop,me and Andy left to Jln Song to had dinner/supper...
if this happen to your car try open the water tank cover and its still can drive for certain distance
...
While sending Andy to his cousin place at MJC,then halfway the water temperature shoot till the highest level as im a bit speeding...i stop down a while to let it cool down but the temperature still showing overheat so i just drove slowly to his cousin place...
i let it cooldown by pouring some water to the white small tank on the left the pour some at the outer part of the tank...then i pour some water into the tank and this what i got... *
smoke came out
*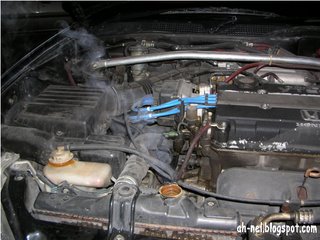 after a while i pour in more and the haze became more...sial...
p/s :Dear God...
When are you gonna take my life?Before that can you gv me a dream so i know when and i wana try out the things i never try before that is bungee jumping,Dragster rollercoaster,slingshot,space shot...I'm ready anytime when u want me to so that maybe i can blog from heaven but i think i will sent to hell... ;)